Closing Up Summer and The Pool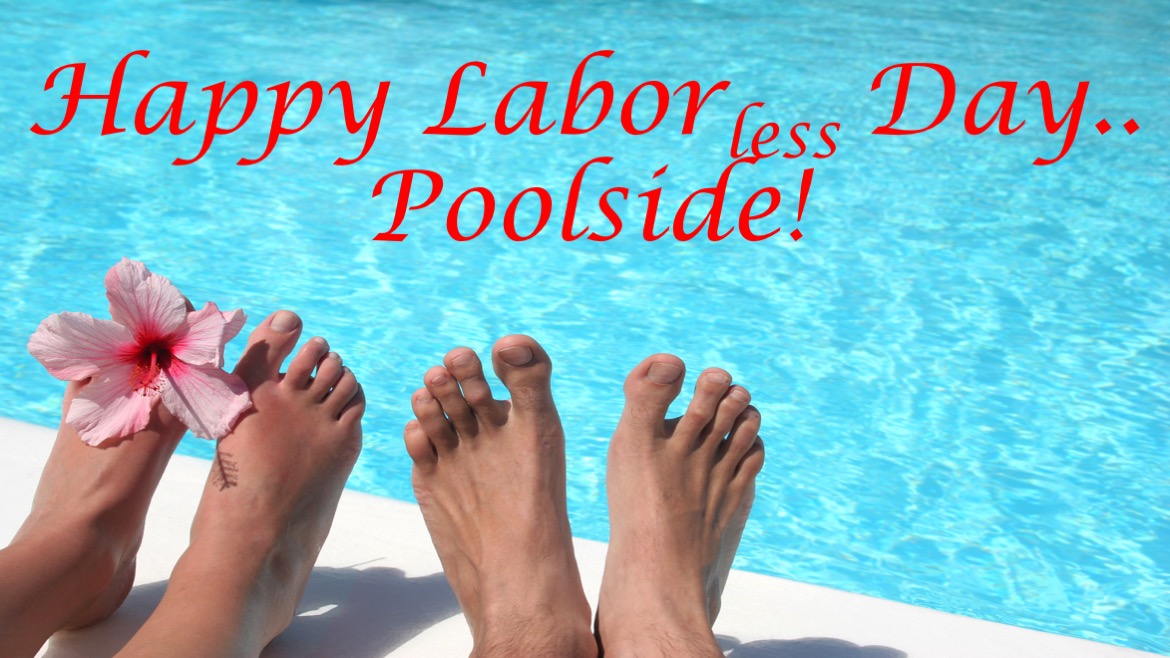 I can't believe it is the last holiday weekend of summer, last official weekend of SUMMER!?! The song, Summer Nights, (the original one with Olivia Newton John and John Travolta singing to each other in Grease,) keeps going through my head.  "OOOHhhh, Oh, Oh… those Suuummer Niiights…."  (Here's a YouTube link if you feel the need to sing along:  https://youtu.be/G9sxnW6cIoE)
With the sun setting on summer and the chillier nights setting in, there are just a couple of things we need to do in order to properly prepare for the colder Autumn nights:
Close up your pool properly for the season in order to reduce time, effort and expense when re-opening in the Spring
Buy a Hot Tub so you're not stuck inside all fall and winter!  (The time to do that is the first weekend of October, the 5th – 7th, during our annual HOT TUB SALE.  If you've been following along with our blog, you've already made your landscaping and design plans for your hot tub and/or swimming pool installation, so you should be ready to go for the Hot Tub Sale.  That's the fun part!)
Here's some help for the not-so-fun task of:  CLOSING UP AND WINTERIZING THE SWIMMING POOL:
Matt's  "Top Two Tips"
Don't wait to the last minute! Call Raft to Rafters and get on the schedule as soon as possible, so you can have your pool closed down properly on the date that you choose.  When you hire the professionals at Raft to Rafters, you can relax all winter with the peace of mind knowing that your pool was properly winterized. In addition, in the rare case that something is damaged over the winter, Raft to Rafters will do the repair for free if it was caused by the work they did. Essentially, when you have your pool winterized and closed down for the winter months, you are buying an insurance policy for your pool.
Bring in a water sample to the store for testing a week before your scheduled closing. This is very important because the water needs to be properly balanced for the cold in order to avoid damage to the pipes and liner or tiles during the wintertime.
A quick true story.  A good friend of mine, Tracy, told me at the beginning of the summer, "We are going to finally hire someone to come close up our pool this year. It's worth the money we thought we were saving last fall. We have spent so much time and money trying to get this water fixed, and we still can't swim in it after nearly a month… and, I think there is a leak in one of the pipes underground leading to the filter/from the filter! It's not worth it, and Chad is getting so mad each weekend dealing with it instead of sitting by the pool with me!"
Tracy's story, a true story with names unchanged, is common and one of the reasons Autumn is one of the busiest seasons for Raft to Rafters, in addition to the annual hot tub sale.  There's nothing like sitting with a friend(s) under the stars on a chilly evening enjoying conversation and the outdoors.
If you are a die-hard 'Do It Yourselfer', like her military husband is/was, and determined to do as much of the pool closing on your own as possible, here is a quick rundown.  You will want to make sure you have everything you need before you begin work on 'Closing The Pool Day'.
Cleaning Supplies
Testing Kit
Pool cover
Water tubes (needed if you don't have a safety cover)
Winter plugs for the return jets
Winter Closing Kit
Air compressor/blower (Raft to Rafters rents these for your convenience.)
WinterPill (helps to keep the pool clear all winter — it's not needed but I recommend it)
You will want to MAKE SURE POOL IS SUPER-DUPER CLEAN before closing it.  It's a good idea to not only vacuum but to scrub down all walls and steps.  Again, we strongly recommend that you bring your water in for in-depth testing prior to closing for the winter, even if you don't do that any other time of year. As a rule of thumb, chemical ranges can be on the high-side when closing your pool because chances are they will drop during the winter.  It's important to have the chemicals properly balanced to protect your pool and liner over the cold months. 
pH should be between 7.6 and 8.4.
Alkalinity should be between 150ppm and 200 ppm.
Chlorine levels should be between 6 and 10 parts per million.
A "Pool Closing Kit" is often your best bet and makes everything simple. Ask us at the shop, and we will be happy to help you get all you need.  Chemicals may include:
pH Increaser and/or Alkalinity Increaser
Chlorine Tablets
Chlorine Shock
Pool 'Antifreeze' – (not the kind for a car!)
Winter Algaecide
A WinterPill is a good idea. While this is not absolutely necessary, it adds a little bit of insurance.  Plus, it's easy to use: just pop a hole in it and toss it in the water.
It's also key to shock your pool the night before you close and to backwash and clean your filter and pump before blowing out the water lines (and pool heater, if you have one) with an air compressor.  Don't forget to plug up the return jets AND skimmer.  You will want to drain a few inches below the skimmer (unless you have an automatic cover) and pool tiles, if you have them, to keep them from cracking.  It is also important to put antifreeze in the lines to keep them from freezing, but make sure it is swimming pool antifreeze not automobile antifreeze. Other than that, keeping the water level normal throughout the winter will be better for the cover.  If you are using a simple plastic cover, make sure there are no rips or tears.  
You still have a few weeks before you have to close your pool, though.  The later you close and the earlier you open helps to battle algae. Algae doesn't grow when the water temperature is less than 60 degrees. 
Happy Closing Day… and Happy Labor Day!!