Hot Tubs-Size & Place Do Matter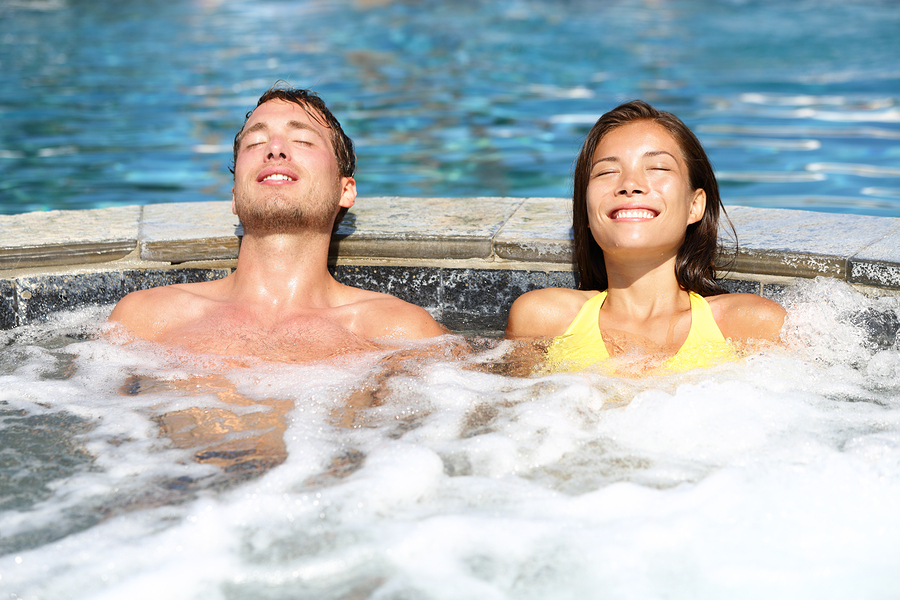 Maybe you envision a snuggly tub built for two or a party- or family-sized model for eight, but choosing the size of a hot tub is a big consideration. Bigger doesn't always mean better for everyone. It's how you use it. (Really!)
Spa Size and Your Future Plans
You always need to factor in maintenance and electricity – the cost of operations for a new spa, or anything. In some aspects, it may be easier and more affordable to run a smaller spa, but if you have plans to grow your family or want to invite friends over to hang out, listen to music, grill a meal and share the waters, allow for enough room for four people. A huge tub for six or eight might be the ideal purchase for you if you entertain a lot or have kids who will want to share the tub with friends. 
Many of today's hot tubs feature energy-efficient materials and mechanical parts designed to save you time and money, so do your research for "greener" options. Bottomline: make sure you think about your needs and calculate the costs first – before diving into the expense and ongoing upkeep. A little higher expenditure on the front-end can save you big bucks down the road. ( I feel like I'm a broken record sometimes!)
In-ground or Above-ground Spa?
Two other types of spas to consider: In-ground or Above-ground. Many of our clients ask about in-ground spas because they are drawn to the aesthetic options of an in-ground hot tub in their backyard. While many people prefer the look of an in-ground spa, in-grounds are much more expensive to build and operate than the above-ground spas. The therapeutic befits of an above-ground unit are much better as well.  Make sure you get some advice from an expert at Raft to Rafters to help you sort out the options and costs. You should also ask for expert advice when deciding what will work best in your yard.  (See my blog post, "Planning Your Poolscape," http://wp.me/p4zuon-f2 for a list of landscaping and planning questions, issues and ideas.)
Comfort is definitely key. If possible, try out a hot tub when it's filled with water and operating.  (Maybe take a weekend and visit all of your friends with hot tubs!) Actually, at the very least, sit in a hot tub in the showroom and try out each seat.
Think about how the spa and the seat suit your body type:
How is the seat and leg room fit your height? When seated upright and stretched out? 
How are the molds and curves of the seats? 
Is the hot tub roomy enough when your spouse or kids get in?
Is there too much knee-to-knee contact and enough arm space?  
Obviously, the jets are important. 
How many jets are there in the tub? 
How strong are they?
How does the water shoot out of the jets? Is it water or air?
Can you customize each seat to your preference?
How much plumbing is in the tub?
How energy efficient is the tub?
It is not just about how many jets and how strong. Placement, power and adjustability are key, along with the ability to regulate pressure.
 Luxury and Add-Ons
Sometimes the most enjoyable luxury or add-on purchases go unused if they require too much work to use or to maintain.  Hot tubs take a little work, like any relationship worth having. Sometimes it helps to just imagine yourself performing the actual steps you'll need to do in order to keep the hot tub in tip-top shape, as well as lounging or socializing at the end of the day. So plan ahead in order to choose the perfect (and most efficient) match for your family! Then, sit back and relax.