Pool & Spa Planning Series – "The Poolscape"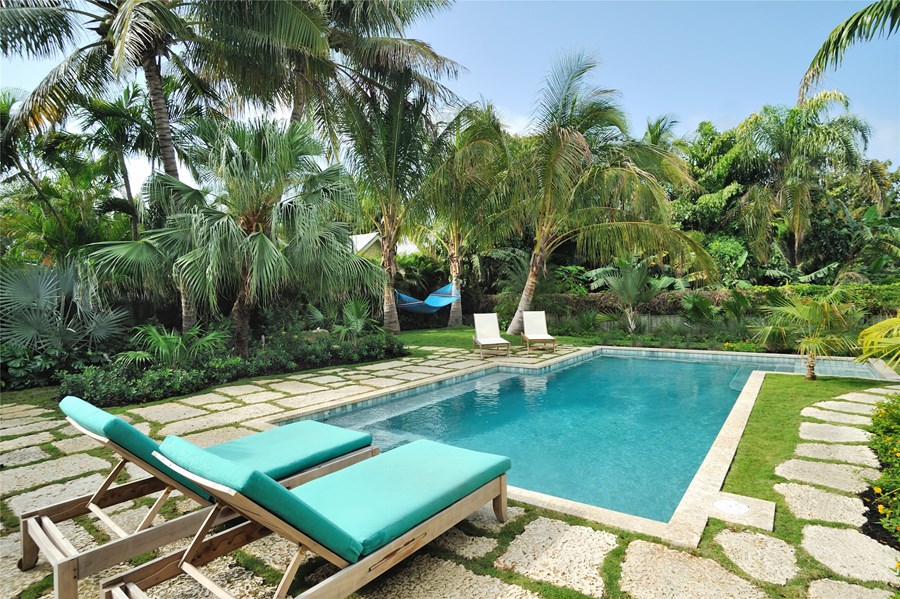 Pool & Spa Planning Series – Landscape & Extras
Extra Considerations for Pool Installations
Landscape Design – "The PoolScape"
Planning the landscaping and "feel" of the area around your pool can be more fun than building the pool itself.  There are so many options! Do you, your spouse and/or family want a more tranquil setting, something with more seating than lawn for entertaining, or an area that is more utilitarian and low-maintenance?  These are all the questions you need to ask yourself before you start digging the pool or marking out the area for the spa. 
You should also consider a few other important choices concerning the long-term maintenance of your pool and spa, because the yard space and budget that you have to work with can certainly influence your decisions for your landscaping and yard designs.  Remember, though, it is easier and cheaper to do thorough planning now, at the beginning end of the project, than after you start digging and everything is filled with water!
 Extra Considerations for Pool Installations:
Automatic Pool Cover:  Increases safety, reduces water evaporation, debris in the pool and, thus, chemical costs. Increases relaxation time by reducing maintenance! Covers can be expensive, but talk to our pool experts about how they can lay the tracks at the time of the initial installation in order to save you money later.
Heater: This extends the swimming season in Indiana, and heaters can be added later.  Talk to our pool experts about how you can save money later by installing the foundation for a pool heater at the time of your initial build.
Pool Lighting:  This is one of the less expensive 'add-ons' for in-ground pools to do initially.  If you area considering adding light for safety of swimmers and the overall backyard area, this is the option to do now at the beginning of pool/spa installation.  It is difficult and much more costly to add-on later.
Water Falls & Landscaping Features:  This is another feature that is much less expensive to do at the time of initial construction.  A water feature can be simple or elaborate, from a deck jet to a full waterfall.  Our experts could even install pre-plumbing at the initial construction if your budget doesn't allow for the full landscaping build at first.
Water slides & other sports:  If your family is one that wants to compete in pool games and play, then you will seriously want to consider including deck anchors and any necessary water lines for slides, etc, during this initial phase of your pool and spa construction.  For instance, you can add the volleyball or basketball nets later, but you will want to install the secure anchors under the surface of the deck at the time of the initial construction.  These types of anchors and planning increase the life of your water sports equipment and make everything safer.  
 After you have a complete plan, with designs on paper and figured your total budget for the pool and spa-related installation, it's time to start designing the "pool-scaping" (landscaping around the pool and spa area.) It also pays to do your research on the plants and materials that work best for your type of soil and the existing trees, vegetation, and structures – before taking a trip to the local nursery.   It is important to have the plan and consult our experts so anything that needs to be done prior to, or at the time of, the pool and spa installation is completed at the time.
Your landscaping design should be:
Low maintenance
Provide privacy and safety fencing
Minimize debris from area/plants surrounding the pool
 So get out some graph paper and a pencil (so you can erase), sit down with the family or spouse, and answer the following questions with assessments:
What is the main thing we want to do with our pool and yard? (i.e. relax, play, eat, exercise, entertain?)
Do you want a modern, rustic, tropical, desert, or simply functional poolscape?
What kind of pool fence (mandatory) do we want for safety? For privacy? For our budget?
How can you incorporate safety lighting? (Underwater lights greatly improve safety for nighttime swimming, lights around the walkway decrease falls, lights around the outside of the pool can prevent people from falling into the pool.)
What kind of foliage do you want? Some plants can reduce mosquitoes and other insects (rosemary, lemongrass, lavender, marigolds, and others) other plants increase privacy and the 'tropical feel', (like, ornamental grasses, evergreens, trees.)
How can we minimize debris getting in the pool from surrounding trees, plants, ground-cover etc?
How can you reduce the maintenance once you have a draft of your initial plan? Review.
 Then, Be Inspired!  Here are a few links to help with the inspiration and ideas:  http://homedesignlover.com/pools/pool-landscape-design-ideas/
 Pinterest has a lot of great ideas, including a focus on small pools for small yard areas.  Here's a link:  https://www.pinterest.com/pin/269934571390190868/
 Dive into the planning! More next week,
Lisa