Spas are Piece of Sweden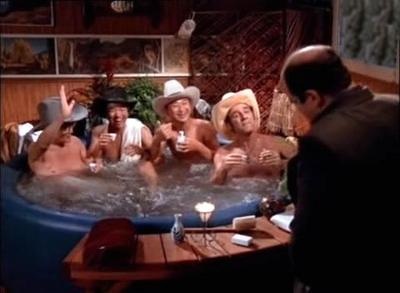 Benefits of Owning a Spa are as Old as Water
Kramer, of the former sitcom, Seinfeld, often acted crazy and erratic, but he was no dummy.  "Sitting in a hot tub inside your own living room," Kramer told Jerry after he put the tub in his apartment, "is like owning a little piece of Sweden.  Windows open. Cold air. Taking a soak… can sooth away any aching muscle." Kramer was in Heaven.  (A hot tub is great for hosting a poker game, too, evidently.  Here's the scene from Seinfeld:  https://youtu.be/6bqkiHaApbY )
Sitting in a hot tub on a chilly autumn night does sound like a little piece of Heaven on Earth, but… "a little piece of Sweden"???  Yep.  (Note: You can enjoy a piece of Sweden and savings during our Hot Tub Truckload Sale, Oct. 5-7)
Evidently, the people of Sweden, as well as the other Nordic peoples of Denmark, Finland, and Iceland, have shared a tradition of hot water soaking that's as old as, well, as old as water.  Today, a major spa manufacturing company is even named for the geographic Nordic region, and its hot tubs are designed to share the healthy tradition of the Scandinavians with everyone.  Studies show the Nordic people are among the worlds healthiest and happiest people in the world today. 
Some Nordic Health and Wellness Lifestyle Practices include:
Eating a diet rich in fatty fish, rye bread, and root vegetables
Taking small breaks from work throughout the day which makes them more productive, overall
Taking an average of five weeks of vacation per year
Cycling to work
Taking long walks daily, "The Nordic Way"  (Originating in Finland, "Nordic Walking" adds the use of modified ski poles to walking in an effort to force your upper body to move as well.) 
Sitting in a sauna or soaking in hot water regularly
Visiting the spa/sauna is a very important part of the local Nordic social culture and provides various health benefits that Americans are just beginning to realize.  The Scandinavians, meanwhile, are doing what they've always done – being healthy and happy! 
Health Benefits include:
Hot water soaking flushes toxins out of your body
Hot water soaking induces better sleep, less stress and boosts overall feelings of wellness
Hot water movement, or 'hydrotherapy', improve cardiovascular performance and reduces swelling and pain in joints
Sweating actually forces your body to burn calories
The Nordics also take a cold shower or jump into an ice bath after sitting in a hot spa. It closes pores and cues your body to conserve heat, boosting circulation and adding to the cardiovascular benefits.
Some hot tubs, Nordic Hot Tubs, are designed to focus on the health benefits of hot water soaking, hydrotherapy, and the sounds and feel of flowing water. The Nordic's 'Dual Therapy System' design helps water to flow and massage parts of the body and joints other spas do not.  It may also make you feel better to learn that Nordic Hot Tubs are more budget-friendly than some other brands. 
If you are asking yourself, "Will I use it?"  This is a question only you can answer, but one industry survey recently found the majority of hot tub owners continue to regularly use and enjoy their spas.  
Here are a few things you can use a hot tub for: 
Consider the health and wellness values to a spa.  Hot water therapy via hot tubs and spas is proven to improve your health and relieve the aches and pains of sore muscles, arthritis, and many other chronic aches and pains, even depression. 
You can use your hot tub for low impact exercises like yoga, calisthenics, or even water aerobics.  You can sit opposite your partner and do leg exercises together. There are even underwater treadmills that you can get that make walking/running easier on the joints.
You can use it to heat up your romantic life.  Research and surveys show that hot tub owners feel they have more romance in their relationship.  Sharing time together, relaxing in warm water is a perfect catalyst for getting two people on the same page at the end of a hectic day. Quiet time and ease of conversation are just what many couples need to reconnect. 
Having a hot tub can help you meet new people in your neighborhood, or keep your children and their friends at home and out of trouble. 
A hot tub is a perfect entertainment center for entertaining friends year-round… just add a little mood lighting and an audio system. Voila'!
 Like any new adventure or a major purchase, it helps to do your research first.  Here are a few links to help you learn more about what type of hot tub may be best for you. 
https://dengarden.com/swimming-pools/The-Hot-Tub-Guru-Free-Advice-for-First-Time-Buyers
Our Annual Hot Tub and Spa Sale starts Thursday, October 5th, and ends Saturday, October 7th. Now is the time to buy, with prices as low as $2995 for a new spa! You can be soaking, exercising and socializing in hot water throughout the winter months!
Let us know if you have any questions!   
Visit NordicHotTubs.com to view products that are available at Raft to Rafters Pool and Spa. 
Visit BullFrogSpas.com to view selections that are available at Raft to Rafters Pool and Spa.
(Source: https://theculturetrip.com/europe/denmark/articles/10-reasons-why-scandinavians-are-so-healthy/)