Swimming in Your Pool for Life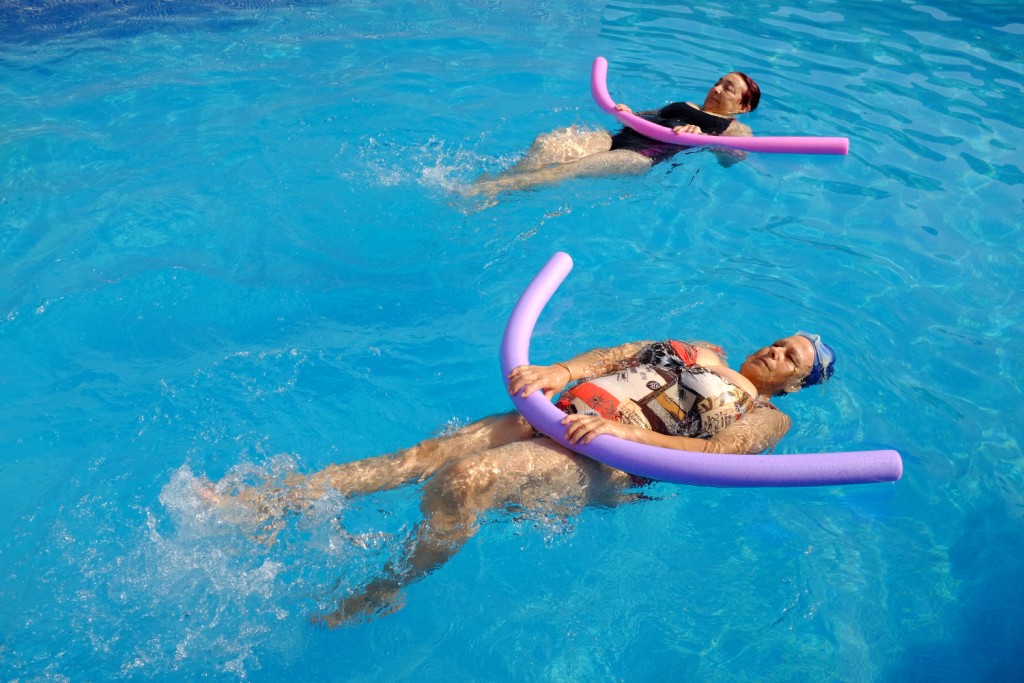 One sport is a sport you can do at any age – swimming!  If you have a backyard pool, you have all you need to become a lean, healthy machine! Young to old, swimming is the sport that is healthy and helpful for a body of any age and any fitness level. The pool offers the ability to do endurance training, achieve weight loss, muscle strengthening and definition, and great for injuries or physical therapy at all ages.
     I have a friend who started a 'Water Babies' class at her local community pool for young moms. She had her babies holding their breath and swimming to the side of the pool by the time they were a few months old. (Apparently, babies are born with the natural instinct to hold their breath – although, you need to learn how to do this safely and properly before trying at home!)
     Swimming is the one sport that helps your longevity, because it is not weight-bearing, like running, so it doesn't hurt your joints.  And, for people who have been sedentary for long periods of time, swimming is the one sport than can actually help you get up and moving again because the buoyancy of the water helps lift weak muscles and eliminate joint stress.  Some people tend to think swimming can become a boring staple in a fitness routine, thinking there are only 'so many strokes you can do – over and over and over.'  Wrong. Pool workouts can be just as varied as aerobics or pilates.. or dancing.  It's water-dancing!
     Exercise Psychologist Terri Schneider just wrote a new book, "The Swimmer's Workout Handbook: Improve Fitness with 100 Swim Workouts and Drills". It outlines 100 different workout routines for the water, while offering the health and lifestyle benefits of swimming and water exercise for people of all ages and fitness levels. 
     If you are just getting started, one thing I like most is her list of tips for swimming newbees. Some tips include:
Wear a comfortable bathing suit. There are many types out there, but it is most important to be comfortable while swimming and enjoy wearing it.
Wear goggles, earplugs and a swim cap.
Water, water everywhere but not a drop to drink!… Remember to hydrate while swimming, especially in the sun.
Take a lesson, or practice your strokes out in the backyard every morning.
Set goals for your swimming fitness routine.
And, my favorite, don't worry about how you look in your suit. 
     Swimming can be a great social activity as well.. think about starting a neighborhood swimming workout club in your pool to bring neighbors together and get the most out of your backyard resort and 'water-fitness-center'!
     Here's an article about Schneider's new book in NewsMax:  http://www.newsmax.com/Health/Health-News/Swimming-health-fitness/2017/07/23/id/803293/
     And, here's a link to her book:  https://www.barnesandnoble.com/w/the-swimmers-workout-handbook-terri-schneider/1126242413
(We are not affiliated in any way with Schneider, the magazine or her book.)